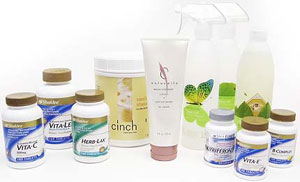 Shaklee is committed to the relentless pursuit of innovation and quality. We never compromise any principle, ever! Shaklee creates products in harmony with nature and backs them with a $250 million in research and development. Our products are distributed by people who believe in them and care about sharing them with others.

Purity:
Shaklee Products Contain only the Finest Ingredients
Pharmaceutical grade vitamins and minerals
Over 83,000 tests conducted annually to assure quality
Raw material testing for over 300 chemical contaminants
349 quality control tests on each lot for our Vita-Lea multivitamins
Potency:
Shaklee Products use only the most stringent standards
What you read on the label is what you find in the bottle
Delivered in safe, clinically proven, efficacious amounts
Patented delivery systems and proven bio-availability
Stringent standards for potency and product specification ensure batch to batch consistency and performance
Performance:
Shaklee: Proven by Science; Proven by Millions.
31 Medals won by athletes using Shaklee products
Seven of Time-life's 25 Greatest Adventures
Millions of satisfied customers for over 50 years
Over 100 employees dedicated to product formulation, testing, and manufacturing
Extensive clinical studies for proven efficacy